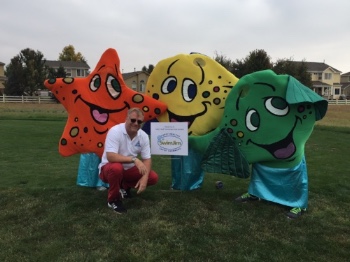 I need your help raising $100,000 to save kids from drowning. 

Swimming – and thus drowning prevention - is my life's cornerstone.   I started swim lessons at 3.  My parents were concerned for my safety with Houston's many community and neighborhood pools. 

My first instructor was Lucky.  He was the most amazing, coolest guy ever. He was a surfer dude with sun-bleached hair, radiant tan and the requisite puka shell necklace.

While my parents paid Lucky for swimming lessons, he really taught me water safety.  Lucky made sure I knew what to do if I were ever in a dangerous situation in a pool, lake or ocean.  I learned life and safety skills, and had a great time all at once.

3,500 people without their own Lucky drown in the US each year.  Think about that. 10 each day.   Why?  Because kids and families totally underestimate drowning. 

Drowning is not loud and splashy with heroic endings.  Drowning is a silent and sinister killer.  Virtually every drowning happens before the victim and their family is aware.  It can happen to your children.  It is far, far closer than you think.

The only way to stop drowning deaths is education. What kids learn today, they will use and pass on to their families.  It creates a cycle of virtue.  Education changes the world.

Stop Drowning Now has the drowning prevention education solution.  It starts in the classroom and prepares kids before they ever reach water.  The curriculum is fun, effective and memorable.  Kids will enjoy and retain it.  They can then help themselves – and maybe a brother or sister too.

The Stop Drowning Now Curriculum has pilot opportunities in Austin, Florida's Collier and Hillsborough Counties and schools in New York's Suffolk County.  They are amazing opportunities to save lives.

We must reach more kids.  SDN is developing a high-quality, web-based learning management platform. Any teacher with an internet connection can use the curriculum to teach their students about drowning prevention.

Technology costs money.  About $100,000.   Which is nothing when compared to a child's life.

Give it some thought.  Give generously.  The child that learns to save themselves may be a friend or neighbor's … or your own.  You can save a life.

With great love and respect,
Jim